The more expensive versions of TreePad allow extensive formatting and graphics to be added to your individual nodes. TreePad's website can be found at: http://www.treepad.com/

Microsoft OneNote is a much more robust notebook program and for those who use any version of Microsoft Office, from 2003 onwards, it is free. OneNote is much more graphically oriented than TreePad. On the left of the notebook "page" there are a number of tabs, each of which represent a separate notebook. Across the top of the page are tabs, much as the tabs you would put in a three ring binder, and on the right you have tabs that represent individual pages.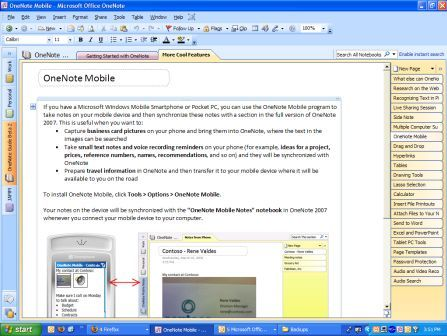 Switching between pages, tab sections and even notebooks is just a matter of clicking on the appropriate tab, all of which are visible. This makes OneNote extremely easy to navigate. Any changes you make are automatically saved. If you have the same notebook on more than one computer on your network, they will all update automatically, if you so select.

Each page is fully customizable for format, including tables, lists, font, size, color, etc. If you want to save something from the Internet, it automatically adds the URL of the page you found it on; a life saver if you have to find it again. You can even save images, audio and video from the Internet to pages in OneNote.

If you use a PDA (Personal Digital Assistant) such as a Palm, Blackberry or iPaq, there is a portable version of One Note that will link directly with your PDA, allowing you to take notes on your PDA and have them show up as a separate notebook in OneNote.

Project Management Software
I mentioned the idea of breaking projects down into steps at the end of section 2.1. The larger a project is, the greater the need to be able to break it down into individual tasks. Tracking and scheduling these individual tasks, especially when they require the efforts of different team members or even different departments can be challenging.

I am a firm believer in graphical representations of any complex task. The mind is much faster to grasp complex issues when they are presented in a graphical form, than when they are in a text form. Even more to the point, the mind can easily capture the interrelation between a number of tasks, when they are presented graphically. Using a project management software package, such as Microsoft Project, allows you to create a graphical representation of any project, showing the plan, participants, resources, individual tasks, timeline and progress. In an instant, all the necessary information about project standing is presented in a much clearer and easier to understand manner than voluminous reports and charts.
---
---